Our line boring machines are made in-house. We have designed them with the ability to set up the boring bars in-situ using our laser alignment equipment.
This accurate alignment ability gives guaranteed results so owners and operators get their vessels and machinery back into service as fast as possible, saving downtime and therefore cost.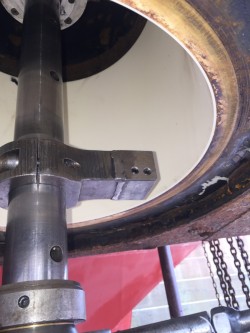 One of the most common problems experienced in pin and pivot systems is Bore Wear.
Over the years we have successfully repaired many thousands of bores in stern doors, cargo hatch pivots, process equipment and all types of earthmoving machines. Today we offer line boring services with the client providing the bore welding element.